So here we are, another month ending, another goal not reached.....But honestly, I should have known better than to set a weight loss goal with my half-marathon. I know my body, I know research shows it is a hard thing to do, I basically set myself up for failure! Oh well...I ran my first half-marathon, maybe that is what I should be focusing on!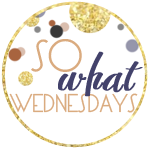 So today I am going to try my hand at So What Wednesdays.... Yikes!
So what if all of my Halloween ideas came from Pinterest, which would include my treat bags for my nieces & nephews as well as my Jacee's costume.
So what if every morning this week I have shut my alarm right off, as opposed to hitting snooze, which has resulted in zero morning workouts.
So what if during ChaLean Extreme, Chalene Johnson is totally rocking her 25-pounders & I am rocking out to my like 8-pounders.
So what if every week I tell myself "no more Starbucks" & then at the start of every week I'm making a trip there.
So what if I will never be a mom who is super organized & her kids are to school early every day, 5 minutes before class starts is considered "early" right?
So what if the hubby & I typically have a mini-date night on Wednesdays while the girls are at church & tonight, instead, we have a "Lets clean the house while the girls are gone" date because it is on the brink of disaster zone (what's a full-time working mama to do, right?).
So what if I participated in a weight lost challenge & for the final weigh-in today I was up 1.2 pounds from the start of the challenge....it could have been up 5 pounds, right?
For WIW, I've resumed my relationship with my scale for now. I got goals I gots to hit! So back to it I go....weighed in this morning & we shall see where next week ends up!